What to expect at a sample sale
Okay, here's the low-down...
A sample sale is when a boutique sells the gowns that brides try on in the store; the gowns are sold 'as is' at a discounted price. It's a great opportunity to snag that dress of your dreams that maybe otherwise would be out of your budget.
Sample sizes do range but are often around a size 10. Our associates will do their best to help advise whether or not something can be altered down.
Check our site to see what designers we carry and if they offer styles that appeal to you. It's best if you've gone shopping beforehand and have a better understanding of the styles you like because if you find the 'one,' you will need to be ready to say 'yes' and will take it home with you that day.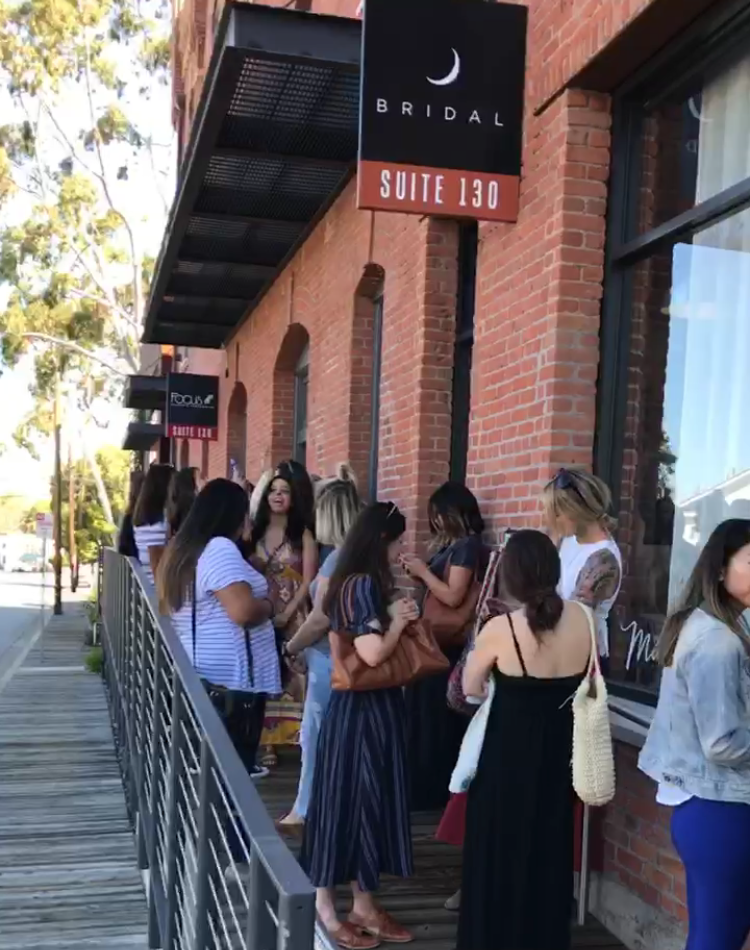 2. The Early Bird Gets the Worm
Set that alarm clock and arrive early to get the best pick. You will be able to select 3 dresses to try on at a time, write those picks down, and be placed in the queue for a dressing room- this is done on a first come, first serve basis. If one of your choices is sold in that time you can replace it with another pick.
3. Choose Your Companion(s) Carefully
Because sample sales tend to get overcrowded, don't bring an entire posse with you. We recommend asking one trustworthy friend or family member to tag along.
Photo credit: Alexandra Wallace
Sample sale gowns are final sale, so know your budget and be ready to commit that day. Sample gowns must be paid in full. You'll also have to act fast, since there's typically only one sample of each style.
The samples have been tried on by previous brides and some dresses will have a bit of wear and tear. Before you commit, look over the dress for any damages and be aware that alterations are not done in-house (however, we do have great local recommendations).
Photo credit: Alexandra Wallace
There you have it! Drink your coffee beforehand and be ready for a fast-paced, fun environment! There's nothing quite like scoring an amazing deal!